Indians have been warming up to global luxury brands for some time now. But, the trend over recent years has been so obviously on the upswing that you cannot ignore the growth of this segment any more, asserts
Abhay Gupta

.

The mere mention of the word 'luxury' throws up instant images of grandeur, high fashion, designer clothing, fashion shows, Bollywood, glossy magazines, Page 3, and a high dose of sensual-visual appeal. It is another fact that luxury is much more than just fashion.
Luxury is a lifestyle, and fashion is just a minuscule part of it. Businesswise-the most visible or voluminous part of the overall luxury trade, fashion has also been quite an employment generator. In the last few years, the luxury segment in India has been growing at a compounded annual growth rate (CAGR) of about 25 per cent. As per a report by the Associated Chambers of Commerce & Industry of India (ASSOCHAM), the market is expected to hit $18.6 billion by the end of 2016 from the current $14.7 billion.
The Indian luxury landscape is currently experiencing strong evolutionary undercurrents that are redefining the consumer profile and how luxury players operate in this domain. Besides fashion, service areas such as fine dining, electronics, luxury travel, luxury personal care and jewellery have been seeing increasing revenues, and are expected to grow by 30-35 per cent over the next three years. Spending on luxury cars continue to rise growing at 18-20 per cent during the same period. As the purchasing power of women keeps rising in India, the luxury beauty products market too has been witnessing a fast paced growth.
Additionally, luxury is no longer the privilege of the few who were born into wealth. There is now a larger consumer base, which has the money to splurge but want a real value proposition at the same time. No longer is luxury fashion out of reach-a true democratisation of luxury and fashion has taken place.
The Indian roots of luxury
But how has luxury fashion built up over the years to its current pace? When did the lines between Indian fashion and international fashion start blurring? How is the 'Make in India' movement going to impact the luxury fashion scenario? When will India produce a truly international luxury fashion brand?
In the post-Independence era, the single most contributing factor to the development of the luxury market has been fashion and the influence of the film industry on fashion. Bollywood has been an early adopter of fashion and a trendsetter, where costume designers like Bhanu Athaiya started experimenting with film fashion in the 1960s.
The brain drain of the 1970s and 1980s and the NRIs' trips back home brought in glimpses of fashion and luxury from developed countries to a still 'Third World' labelled India. Few of the rich who frequented overseas, and were perhaps also educated abroad, enjoyed the westernised concept of luxury. Cousins, for instance, would be requested to bring back a pair of Levi's jeans during their trips abroad.
By early 1980s, the first generation of Indian fashion designers started to emerge, which included names like Satya Paul. However, it was Rohit Khosla (1958-1994), who became a pioneer in the fashion industry when he founded Ensemble in 1987 with Tarun Tahiliani, Abu Jani-Sandeep Khosla and others.
Ritu Kumar, the doyenne of Indian fashion puts this in context, "Luxury has been an inherent part of Indian culture; whether it is jewellery or clothes or even lehengas, we have been exposed to high value pieces from a very early age. We have a 2000-year-old culture of gifting silver and precious fabrics; we understand luxury.
"
Other names that impacted the luxury-fashion scenario gradually included Sandeep Khosla-Abu Jani, Sumeet Verma, Rohit Bal, Tarun Tahiliani, Manav Gangawani; modern and younger names like Rajesh Pratap Singh, Manish Arora, Sabyasachi Mukherjee, and Manish Malhotra became the new global faces of Indian luxury.
The Indian design fraternity became the symbol of luxury in the late 1990s and early 2000s when international luxury labels started to show their presence via multi-brand stores selling stocks from the previous season. Among the initial international fashion brands who set foot into India, names like Lacoste, Benetton, Wrangler, Levi's, Reebok, Adidas, Louis Phillippe, Arrow, Tommy Hilfiger, etc are the most prominent. A multitude of Indian brands cropped up too and spread deep into the country very quickly.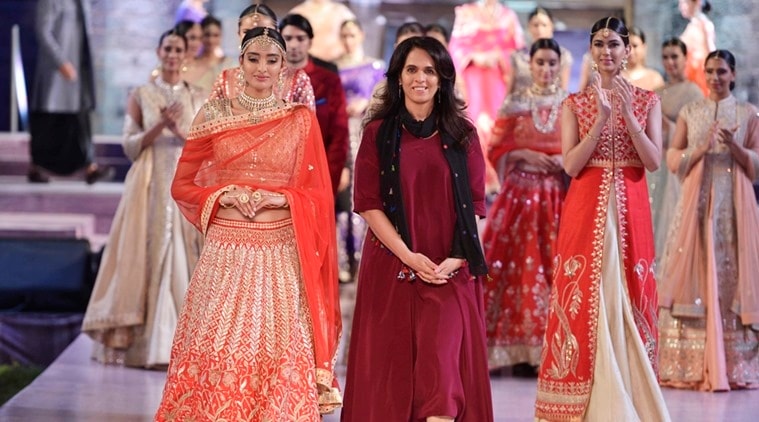 By the late-1990s to early 2000s, international brands had begun to be prominently visible in urban wardrobes, though high duty structure and overall costs of imports made it extremely difficult to transform this into a regular business.
However, retailers like Sehgal Brothers (The Blues - New Delhi), Benzer (Mumbai), Ffolio (Bangalore), etc were quietly teaching Indian men to dress in Italian fashion by importing previous season stocks. The need to look 'different' from other men in similar circles was driving a small yet wealthy lot of customers to experiment with names like Ferre, Versace, Canali, Hugo Boss, Trussardi, Princepe, Valentino, etc.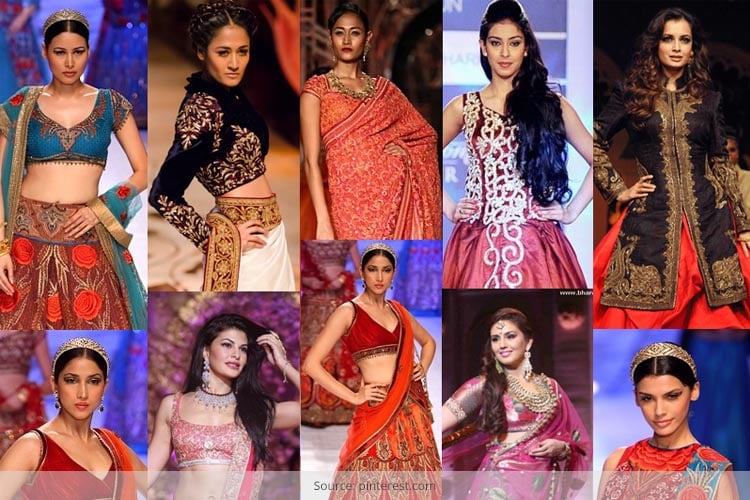 In 2005, the country's first full franchise agreements were signed for Versace Collection and Corneliani. Others followed soon when in 2008 India's first luxury mall Emporio opened doors to names like LVMH, Christian Doir, Fendi, Canali, Hugo Boss, Ferragamo, Armani, etc. Bangalore and Mumbai soon joined in with UB City and Palladium respectively.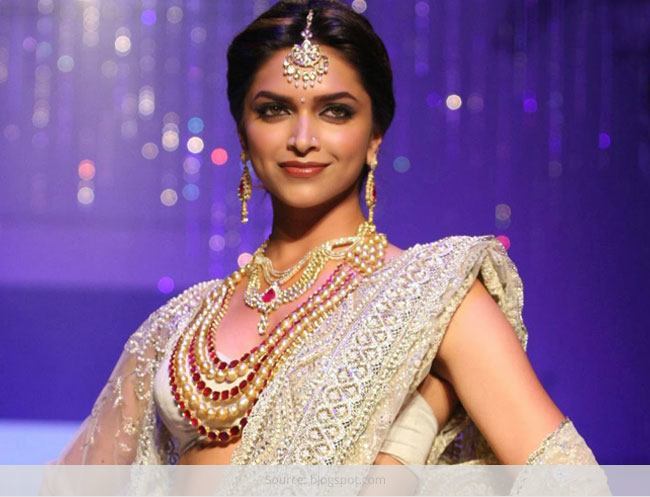 The luxury fashion scene clearly began to explode. The world was reeling under an economic crisis and luxury brands were once again approaching Indian shores. The difference now was the new set of target audience-the new maharaja, the industrial wealthy, the film star, the scion of booming business, and the nouveau riche entrepreneur. Luxury brands responded and fuelled further growth, desire, and craving for latent dreams. They democratised by introducing entry level brands, and premium brands scaled up to meet this new customer.
The Indianisation of luxury
Despite challenges, difficulties, cultural restrictions and social norms, brands are now adapting and creating special products and unique experiences specially suited for the Indian customer. Adaptation to Indian taste trends and likes has become a norm. Hermes creates sarees, Canali offers bandhgalas, McDonald introduces McAloo Tikki burgers-all are attempts to remain in India for a long time to come.
India-born designers like Prabul Gurang, on the other hand, have started to enter the fashion and luxury space from international ramps rather the other way round. Fresher names like a Shivan & Narresh, Nappa Dori, Rahul Mishra and more recently Suket Dhir are making India proud. The initiation towards a truly global luxury brand from India has started. This set of designers has their vision clear-road map drawn and battle gear ready.
With the 'Make in India' initiative, the government has also extended its support. The time is not far off when India produces its first prominent global luxury fashion brand.
Almost all products made by Indian designers and artisans are virtually creating waves in international markets as exports of art metalware, woodware, hand-printed textiles and scarves, embroidered and crocheted goods have reported significant sales. Shawls, artware, zari goods and imitation jewellery too have found new markets. While woodware has registered an increase of 5.88 per cent over the previous year in exports, printed textiles registered 9.91 per cent, and embroidered crocheted goods 8.30 per cent growth.
"There is a tremendous market for us and we are moving ahead to capture new areas. We are on our way to surpass all previous records during the current fiscal through handicrafts exports," handicrafts development commissioner Dr K Gopal told a newspaper.
While on the one hand, brands like Fabindia, Good Earth and Forest Essentials are attracting a new kind of luxury consumer, on the other, bridge-to-luxury brands like
Gap, Zara and H&M are creating new records of the 'look good-feel good' phenomena engulfing the young Indian.
Further, India is all set to become a manufacturing hub for global luxury brands in the next 4-5 years, according to a FICCI-Yes Bank report on luxury brands.
According to the report, the manufacturing business of luxury items in India could grow up to $500 million as global brands like Louis Vuitton and Frette are already looking at India as a manufacturing base, while others are sourcing their requirements from India. Moreover, the cost advantages, particularly in labour-intensive sectors like leather and accessories will influence the manufacture of foreign brands in the country.
It is interesting to note that for years, Bangalore has been the luxury fashion manufacturing backyard. While it may not be an active hub for Indian fashion, it is interestingly a pivotal nerve centre for fashion labels of the world. For uber-luxury brands like Ralph Lauren, Burberry, Roberto Cavalli, Georgio Armani and Hugo Boss, Bangalore is haute. The city is home to some fine garment export houses that are busy churning out ready-to-wear ensembles for these big fat fashion brands.
Hence, we could easily say that Indians have warmed up to global luxury brands for some time now. The trend over the recent years is so obvious that you cannot ignore the growth of this segment any more. While Hermes, Louis Vuitton and Gucci are the top three brands in India in the luxury segment, there is a growing appetite for newer luxury brands as well.
Brands such as Fendi, Burberry, Bottega Veneta, Paul Smith, Jimmy Choo and Roberto Cavalli make the lifestyle statement of the upper middle-class and those in the top echelons. And this clear shift in consumerism has been possible as young Indians are now embracing global luxury brands. While women mainly look for bags, shades, clothes, shoes, wrist watches and lingerie, men are mostly shopping for brands like Tag Heuer, David Jones, Versace, Armani, Boss Orange, Fred Perry, Ralph Lauren and more. Then, there are unisex luxury items such as cars and electronics, which are equally favoured by men and women. In most cases, both men and women show equal interest in luxury brands.
Walking on Jimmy Choos and Cavallis is the 'New India' that is showing all signs of turning the market in favour of global brands. Although India's share of the global luxury market is a paltry 1-2 per cent, luxury retail brands-both national and international-are in a hurry to set up shops in the country. And the main reason that industry experts attribute to this positive growth is the fact that Indians are more 'brand aware' now, owing to their foreign jaunts. Well-travelled consumers and a stable economy, coupled with a young population with growing disposable incomes, spell 'good news' for luxury brands across the world.
Eventually, luxury is a long-term business and India is a long-term market. Indians are realising their own potential and creating their own unique identity and demand. Indian heritage is being rediscovered by the new youth and is being restored to its past glory.
Luxury is here to stay and re-live its glory again-glory that existed in Indian heritage is being fuelled by a dynamic India, thriving, pulsating, breathtaking-as luxury entwines its way back into an incredible India.
The cycle is back to India where it all started for many luxury brands almost 100-150 years back. From Maharaja to masses, luxury is all things truly Indian.