Navratri dress styles to be followed during this festivals and matching accessories and hair styles
Navaratri is a special occasion in every Indian Hindu family and hence getting the right style during these special days is important for every girl. No matter if you are in your twenties, thirties or above, you can always get that special Navaratri look and make the heads turn. Have you already decided about your dress style during this special festive or you are still all messed up and undecided about what to wear? This article will give you a clear idea about the dress styles in trend that can go perfectly for the occasion of Navaratri.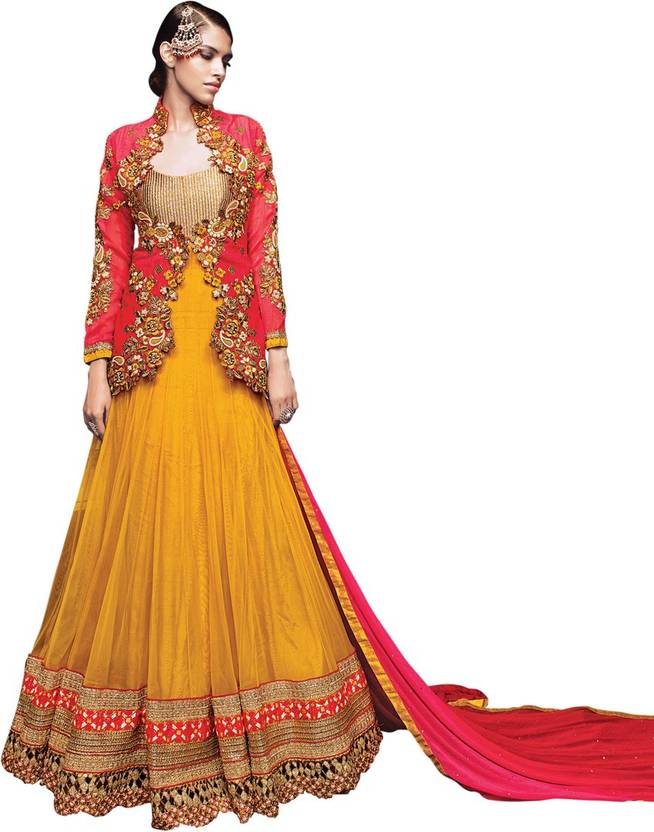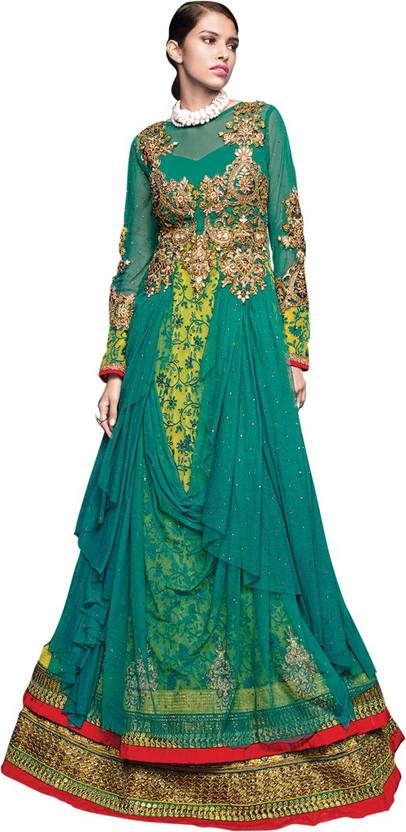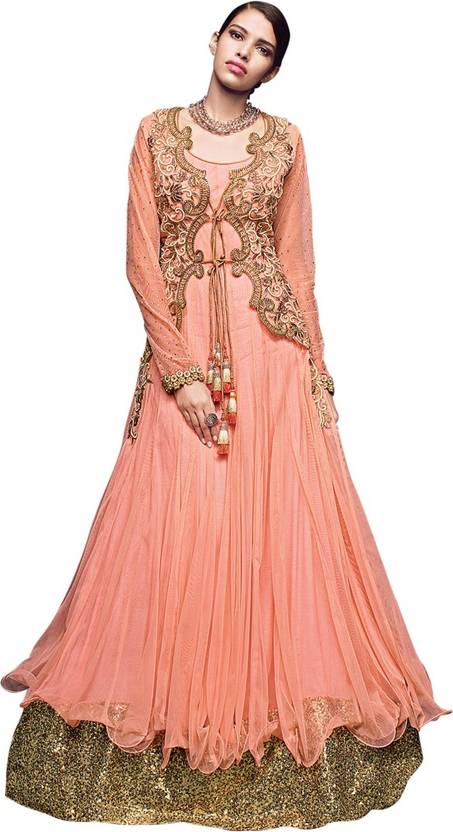 In order to get that perfect look that even your mirror will cherish, putting on the right dress is not enough. You also need to get the right accessories and hairstyle to actually make it work at its best. In this article we have presented a complete guide for your Navaratri dressing style, accessories as well as hair style. Read on,
Dress styles to be followed during Navaratri
Going ethnic about your dress style is one of the key mantra during Navaratri. Ethnic wears match perfectly with the festive and they can actually give you the best look. However, along with the huge variations of lehengas and sarees you can also try out some fusion and Indo-western wear that will match with the essence of the occasion.First let us take a look at the different latest designs of Lehenga-cholis that can set the tone just perfect for you this festive season along with some indo westers, fusion wear and sarees,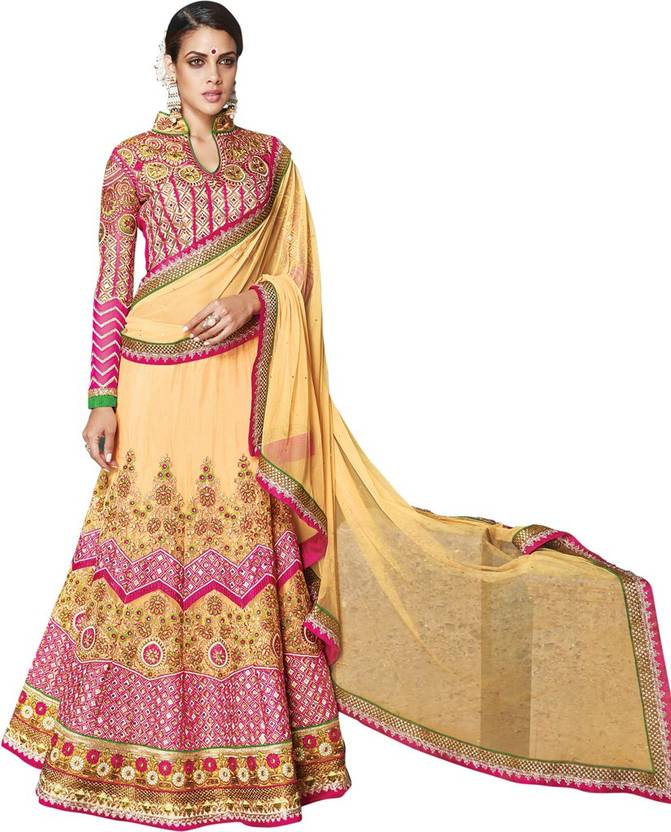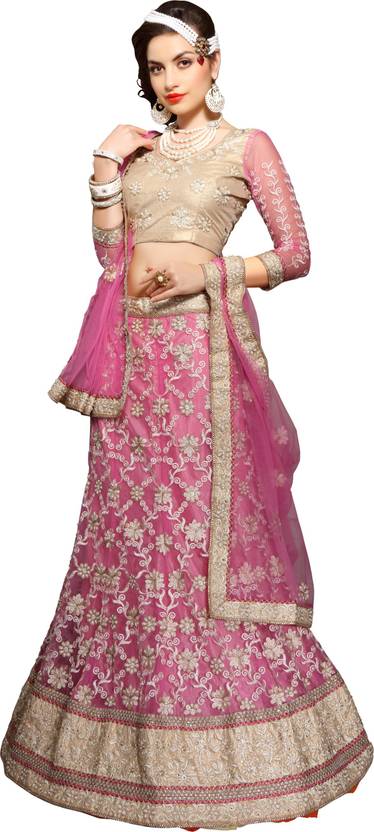 Embroidered long sleeve Lehenga Choli
This type of unique yet simple lehenga cholis are in trend now. This Lehenga choli has a color combination that is sure to catch the eyes and expresses the festive mood very clearly. The longer blouse with the lehenga along with the three quarter sleeves not only gives the dress a modest look, but will also easily hide any stomach fat under its fabric. You can always pick this type of simple yet classy lehenga-cholis for this Navaratri.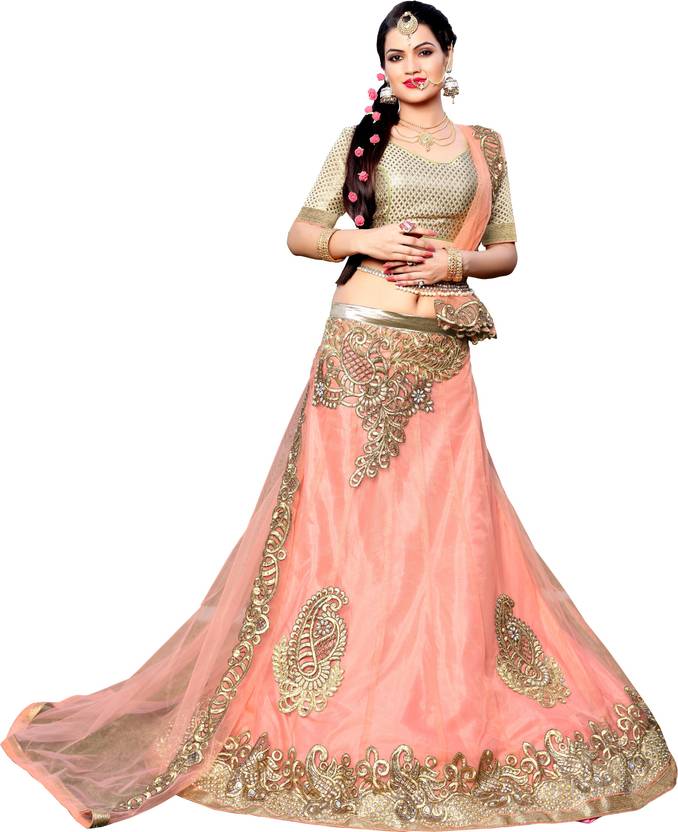 Lehenga choli in net and sequin
Net based lehengas are extremely in trend now. Net as a material is often preferred for lehengas due to the flowy, dreamy look they offer. The blouse of this lehenga-choli set is all over sequined which make it look gorgeous without going over the top. One of the best things about this type of net based lehenga cholis is that these are lightweight and can be carried easily even if you are not very much habituated in ethnic wear.
Mirror worked lehengas are a popular trend this season. They look absolutely gorgeous and perfect for occasions and festivals. This mirror worked lehenga comes with a velvet blouse and net dupatta which gives it a dreamy look. This type of lehengas does not come with much pleats and can be a good option for girls planning to play Dandia or trying to get a slimmer look.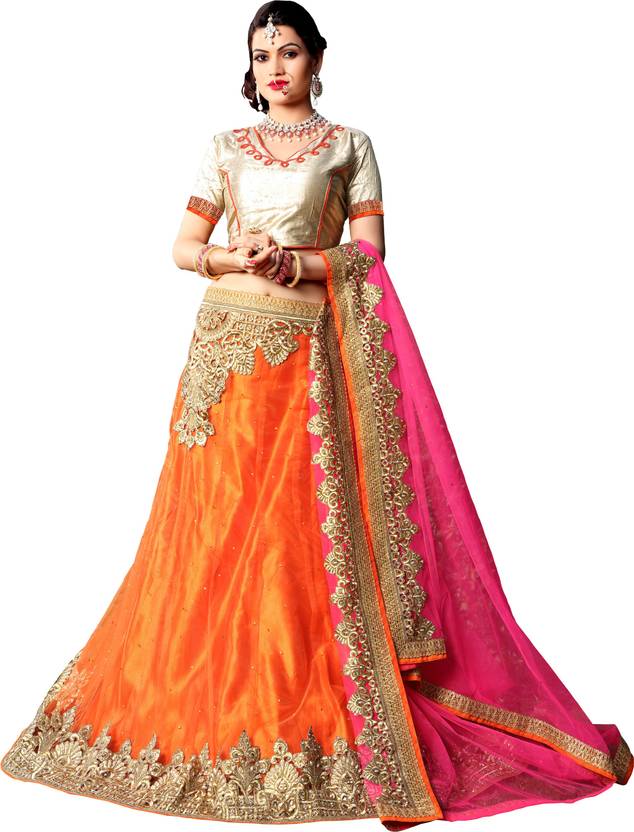 Printed net lehenga
Floral prints never go out of fashion and there can be hardly any other better lehenga than this one for this Navaratri. The floral prints in pink look absolutely gorgeous on the soft colored base of the lehenga and the net covering actually completes the look. The gorgeous, short sleeve blouse of the dress should not be missed. If you have a knack for laces you can surely try out this type of lehenga this Navaratri.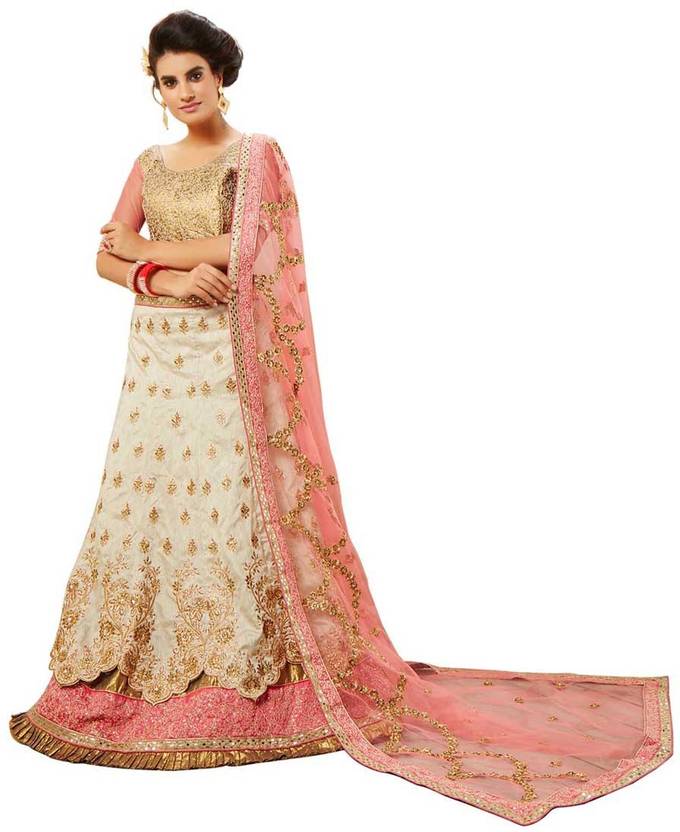 Long dress in Silk with Dupatta
Silk is always a cherished fabric and this type of beautiful long dresses made with high quality silk can actually give you the best look during Navaratri. If you do not want to put on Lehenga-choli that all else must be trying on, check out this type of long Indo-Western dresses that will look chick and beautiful on you. The high neck collar pattern of the dress along with the intricate front work and the flowy base can look absolutely stunning when paired with the right accessory and hairstyle.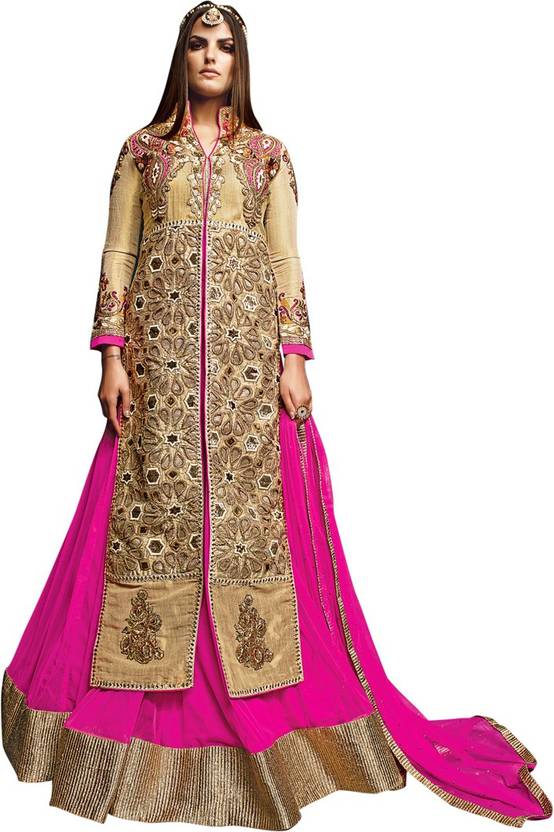 Long dress with jacket and salwar
This is another latest indo-western pattern that is in trend and can be a stylish pick during this Navaratri season. If you are looking to introduce a difference in your style and to make a stylestatement of your own instead of coping the common fashion, try out this type of long dresses that comes with heavy worked jacket and salwar to give a complete look.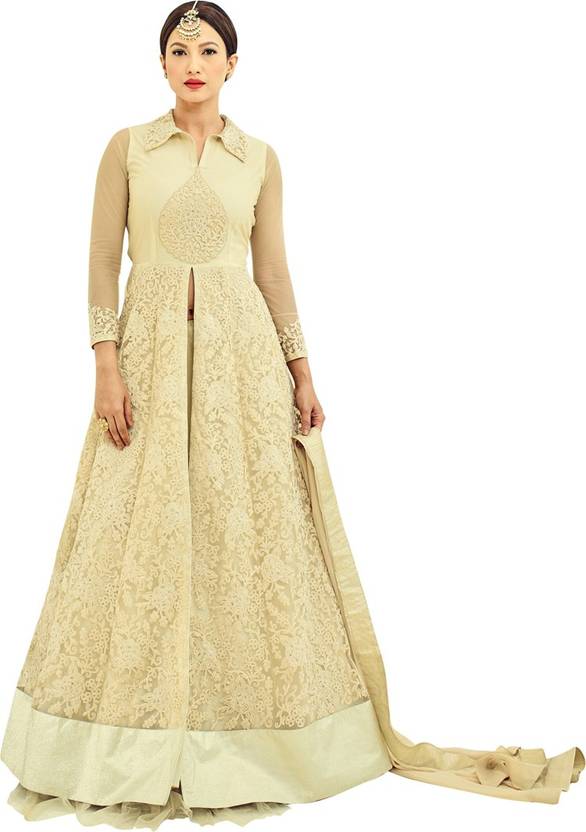 Solid Lehenga choli in floral print
The simplicity of this Lehenga choli makes it stand apart. Here the lehenga is solid and the upper part is completely devoid of work, which has been followed by a zari border and then again a contrasting solid border without zari. The blouse of this Lehenga, which makes one of the primary attractions, has a bright floral print in yellow and black. You can always try out this type of unique floral designed lehenga-choli for any traditional occasions including Navaratri.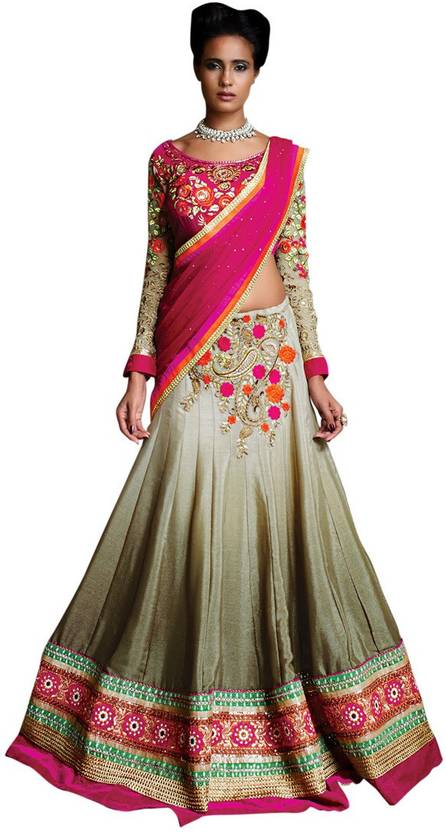 his beautiful fusion dress can add to the look of any women during this festive season. This type of fusion wear is highly in trend and they look really pretty. The body hugging long top of the dress looks absolutely gorgeous with the over flowy georgette lehenga in light color. The neck pattern of the dress should also be noted. Pair this up with the right accessories and hairstyle to look your best this Navaratri.
Traditional lehenga-choli in bright colors
For occasions like Navartri, a bright, traditional Lehenga-choli like this one will always be the right pick. The long netted sleeves of the blouse, along with the net covered embroidered lehenga looks gorgeous in combination with the net made pink colored dupatta. Pair this lehenga choli with heavy ethnic accessories to complete the look.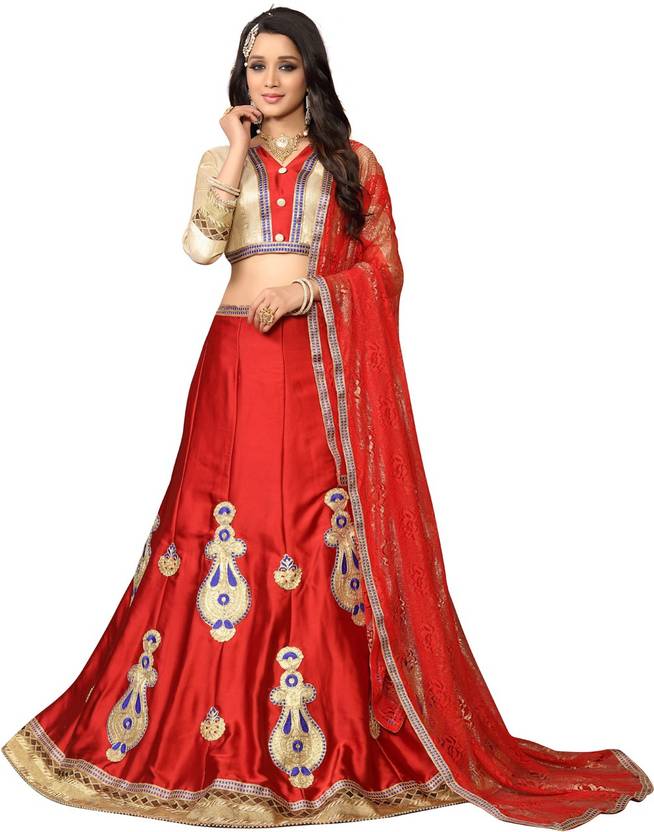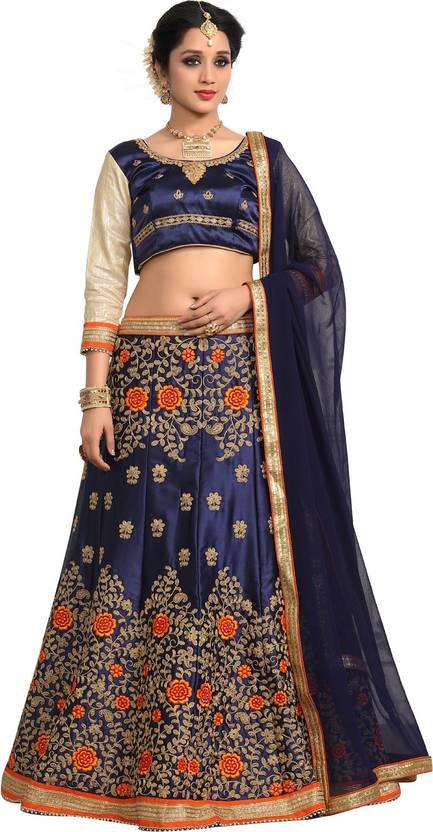 Lehenga with long jacket
This is another latest trend that you can surely try out this Navaratri to look ravishing. A heavily worked deep colored, full sleeved long jacket pattern top coupled with a solid contrasting lehenga can be your best pick this season. It is great to introduce some variations in the normal lehenga-choli look and will also hide imperfections in your figure nicely.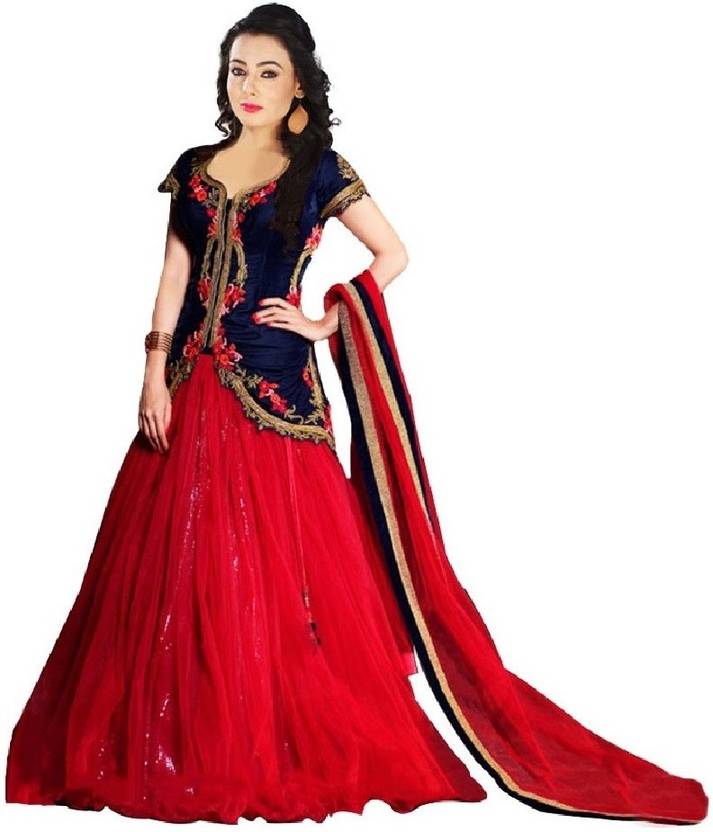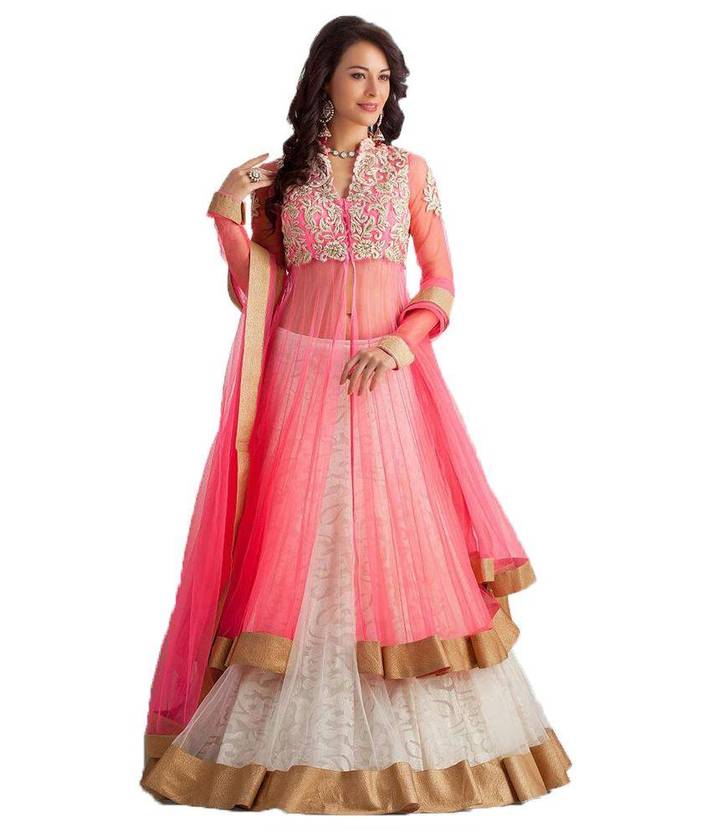 Saree for navaratri
You can always pick a gorgeous saree to get the right look during Navaratri. While picking the saree make sure that it goes perfectly with your age as well as the time of the day when you are wearing it. Generally, opting for bright colored and heavy worked sarees is always a good idea during Navaratri unless you are planning to take part in Dandia dance.