You don't have to be rich to look good or fashionable. Globalization has impacted street fashion as well and there are more ways than one to get on the fashion bandwagon.
Everybody knows that peplum is here to stay. Blair Waldorf wouldn't have been caught dead in something that didn't set a trend immediately. But little did the main character of Gossip Girl know that her wardrobe would influence Sonam Kapoor's wardrobe in Aisha in 2010. In New Delhi, the red peplum dress Kapoor wore in the film caught Tinky Ningombam's fancy - the 27-year-old public relations manager marched to her local tailor and had the outfit stitched. Frugal finances don't always need to come in the way of fashion.
Apart from the price of the dress at a high-street brand, it is important to get the right fit," says Ningombam who prefers to shop on the street, instead of hitting the malls. A walk through Delhi's Janpath or Sarojini Nagar market or Colaba Causeway in Mumbai is all one needs in order to get a pulse on an eclectic, fresh, not-so-original but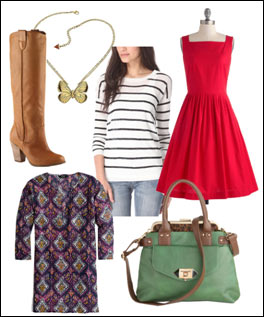 seamlessly international phenomenon called street fashion.
Apart from popular cinema, magazines and blogs are emerging as an important medium that seek to guide fashion lovers of all backgrounds and budgets. "People are sharing ideas on social networking portals and blogs," says Aaditya Walia, senior fashion stylist, Vogue India. But the numbers are small. Less than 30% people in India follow latest trends, points out Mumbai-based fashion blogger Gia Kashyap. She feels that Indians are far behind the global benchmark of international street fashion compared to the Americans, European and Japanese counterparts. "In India, fashion is very subjective. You may find a girl wearing only western clothing in Mumbai, another girl in Jaipur may wear block print cotton kurtas. Both stylish, but different," says Kashyap.
Coloured denims, quirky prints, palazzo pants, crepe dresses with butterflies, polka and little hearts, boat shoes or wedge heels are in vogue this summer. Street fashion in India is evolving fast and is a reflection of Indian sensibilities, colours, designs, embroideries and textures from different states of the country, mixed with western fashion. "Indians mix East and West fashion instead of donning one look," says Gauri Verma, fashion assistant at Elle magazine. An embroidered kurti paired with denims often leaves more impact that a plain western shirt, she adds.
A few unique items such as the Nehru Jacket have become popular. "The jacket is not restricted to the wardrobes of politicians, even a young executive at an MNC or the guy hosting the IPL shows on TV is sporting the same jacket," points out Sunil Sethi, president, Fashion Design Council of India. So while you have top designers in the country selling a Nehru jacket for Rs 20,000, there are also those on the street that sell for Rs 500 per piece.
RASTA-FASHION
Naresh, a salesman at Janpath market in Delhi, spends around 12 hours a day wooing young girls to buy the latest stock from his shop. "Though negotiating with women on price is very stressful, I do not mind if it's a pretty face," quips Naresh, who is busy selling leopard print shirts in multiple colours, balloon trousers, lace shirts priced between Rs 150 to Rs 400.
Since street fashion is generally associated with youth, affordability is the key. Street markets in India sell items like a shirt for as low as Rs 50 to a pair of funky pink cotton trousers for just Rs 200. "Instead of buying from brands like Zara or Mango, I go to my favorite shop in Lajpat Nagar where one can pick four different pieces, in four different colours, for the same amount of money," says Natasha Sharma, a B Com student at Delhi University.
These clothes come from a host of export houses in India, which supply garments to international fashion brands in India. Their rejects are dumped into markets like Janpath and Sarojini in Delhi, and Crawford market and Fashion Street in Mumbai. This allows shoppers in India access to the garments that were originally made for brands like Gap or H&M, which do not retail in India."Exports surplus makes premium fashion affordable. I do not mind buying a Gap shirt for Rs 200 with a missing button or two. It's easy to fix anyway," says Neha Khedekar, a CA based in Mumbai.
Another important source for western casuals selling on Indian streets are cheap imports from the US and Europe. "These clothes are brought into India, cleaned properly and then is sold across the country," says Ravi Shankar Rao, managing director of Magenta Fashions, a Noida-based export house.
There are also retail companies such as Shopper's Stop, Pantaloon Retail and online firms like Yepme and Myntra that ink distribution deals with Bollywood production companies to roll out fashion clothing inspired by films.
Once those designs reach the organized retail market, it does not only make fashion clothing accessible to consumers at an affordable rates, but also helps the unorganized or fake marketers to produce copies at even cheaper price.