1.CULTURAL CHARM
The bejewelled forehead has taken over. Be part of the razzmatazz this festival season. The XXL version of maang tika works fabulously with Rajasthani silhouettes in kalamkari print or a drop-waist flared maxi dress in hand-woven khadi and organic silk, in muted shades.
2.CONVERSATION STOPPERS
A dramatic blend of strong, bold, geometric, asymmetric lines work very well with traditional Indian sensibilities. Think jagged triangles linked together with a floral pendant, abstract neckpiece with random jewelled circles, nacklace-cum-body harness and metal capes. Extra ordinary is the way to go!
3.DELICATELY CHIC
Fabric and bead jewellery is a fun way to try something new. Wear it with layered ensembles in chiffon, light silk and dainty cotton for a look that is very soothing to the eye. Stick to the ice cream colour palette -butterscotch yellow, fresh strawberry pink, black current purple, minty green and icy blue.
4.STONE-AGE WOMAN
Get inspired by mother nature and pick ornaments that are intrinsically hand-crafted using natural stones and wires in shapes of lotus flowers and evil eye patterns. Unconventional and liberated yet regal and raw in its appeal, they go well with traditional as well as contemporary ensembles. Perfect for the free- spirited woman of today.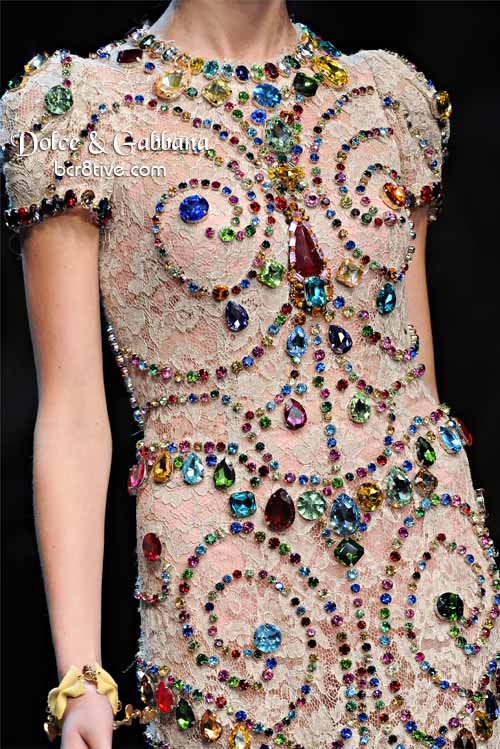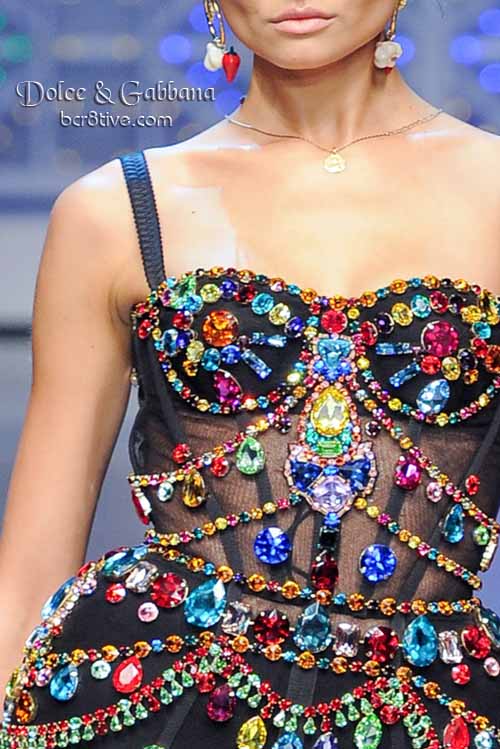 5.TRIBAL GYPSY
Tap into the tribal jewellery trend by sporting the center nose ring made out of antique silver or gold. It has great visual impact. Pair it with boho silhouettes like kaftans, tunics, kedia style blouses and skirts in rich, Indian colours.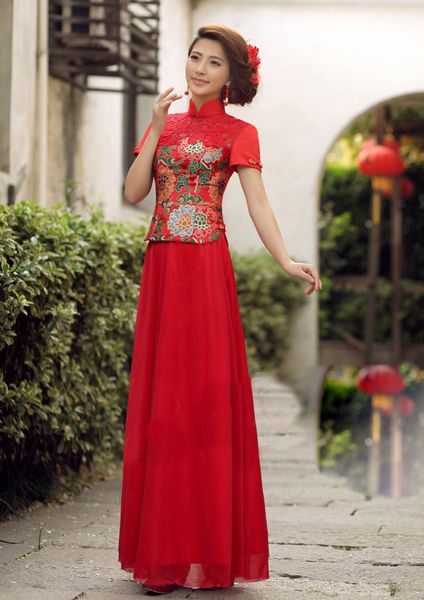 6.GOING GREAT LENGTHS
Let your ensemble be the canvas for creativity. Go for a standalone piece like a necklace that stretches from your neck to your navel. With jewellery-making techniques like rawa, navratana, jadai and nakkashi, the craftsmanship has undergone a complete transformation. Chandeliers and chokers in geometric shapes and boleros an belts with numbers etched on them look artistic and unique.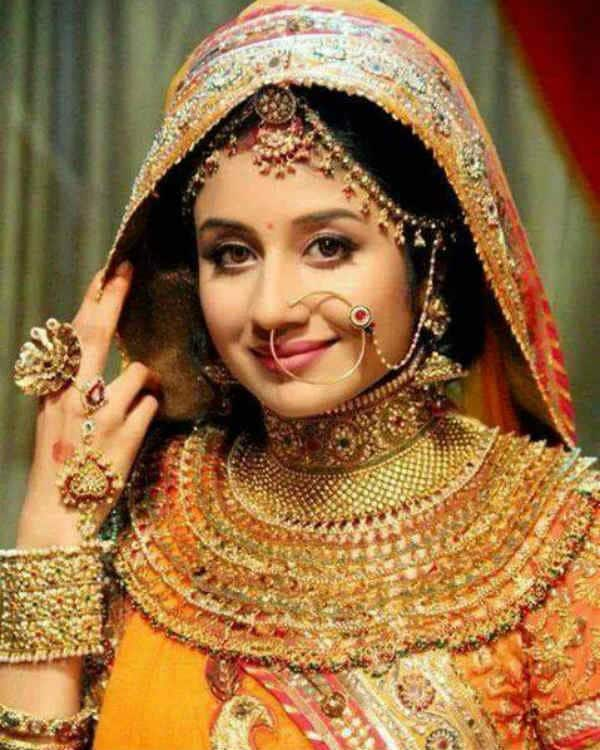 7.GOTH GLAMOUR
Put on the bejewelled dark fantasy avatar by wearing jewellery in brass gun metal, with darker undertones. Think head gears, harnesses, bracelets, belts, broaches, big shoulder dusters and lots of face framing ornaments in black rhodium with thread tassels, feathers and antique gold plating. Baubles like floor-length tasselled belts, silver crowns and colossal head with swarovski crystals, semi-precious and coloured stones and stained glass effects add much-needed glamour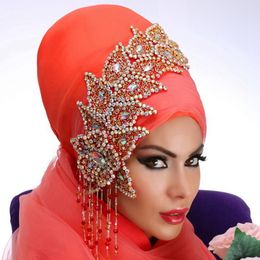 8.COLOUR PLAY
Let your festive look celebrate everything about ethnic Jndia. "A short ethnic festive top and draped silk dhoti pants with a dupatta in bold colour blocking is refreshingly stunning, "says designer Aniket satam.
ADD ON:Style the look with golden block-heeled kolhapuri sandals and silk patchwork potli,
9.SARI THAT SPEAKS
Infuse your Indian sari with an element of quirk to create an outfit that literally 'speak'. Festive yet functional is your mantra: make sure your ensemble is comfortable and easy yet dressy. pick classic, handwoven natural fabrics and weave a bold look that reflects the woman of today," says designer Sreejith Jeevan
ADD ON:Let your sari be the center of attention. Punctuate with big vintage earrings, an envelope clutch, block-heeled sandals and black dot bindi.
10.METAL MAKEOVER
A red hot saree drape with golden hand embroidered border and dramatic metallic details is apt for the daring desi diva. "The vibrant red adds to the festive spirit while the flowy fabric gives a good silhouette to the body," says designer Vani vats,
ADD ON: Minimal accessories like a fusion haathphool and an edgy ear cuff is all you need.
11. SAMYUKTA STYLE
Queen Samyukta's (wife of prithviraj Chauhan) style was unique. Like her, create a timeless, intricate handwoven ensemble that is a blend of Indian culture and heritage."Think marodi (twisted) hand-embroidered Rajasthani long blouse, double ikat patan patola gharara and yellow dhakai jamdani saree draped as dupatta," says designer Gaurang shah
ADD ON:Style it with a set of matching bangles and mojaris. Add to it a pair of antique jhumkas or chandbalis, sindoor and the nath along with fresh jasmine gajra in the hair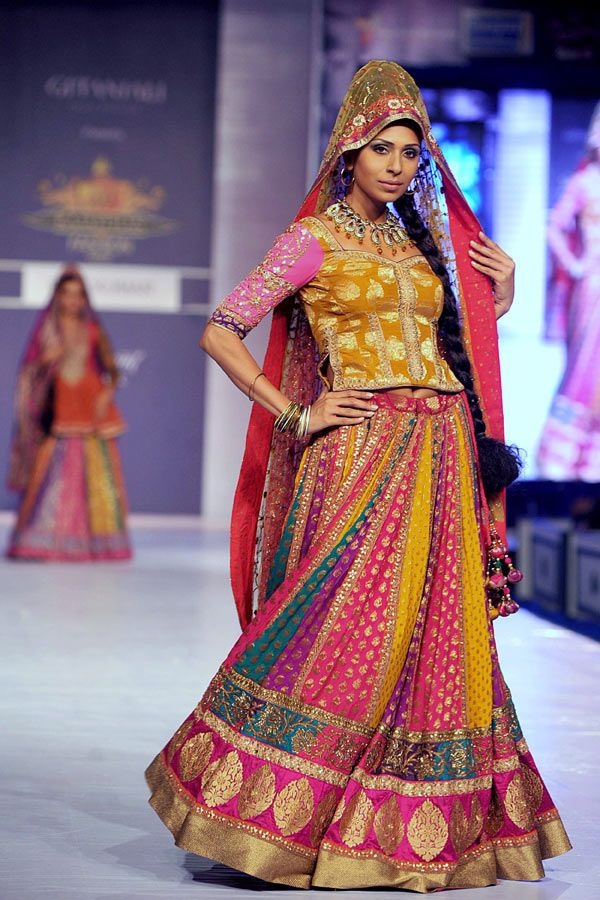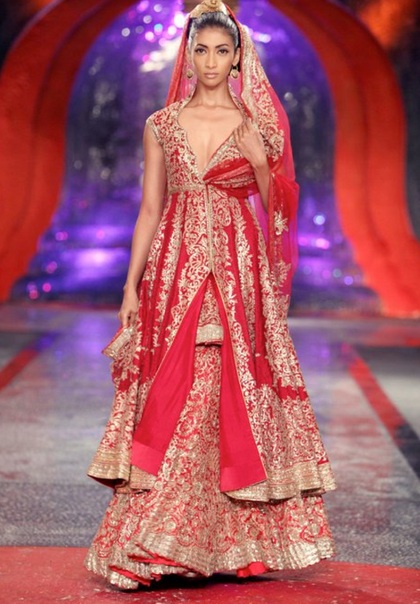 12.DEVI THE DISCO
Unleash the spirit of the season in a distinct way, using three separates - a gold blouse, georgette jhalar drape and sequinned pants in skin net. Each, that can be worn in handred different ways! "Let your ensemble carry forth tradition in the form of both the choli style blouse as well as the drape which is richly inspired by the saree pallav, but the embroidery is uber western glam featuring sequins and gold and evocative of 'disco queen days," say designers Abu jani-sandeep khosla.
ADD ON: Go for strappy gold or silver heels and gota potli bag or metallic leather clutch.
13.CONTEMPORARY KALAMKALI
If kalamkari is your calling, this look is a perfect answer. "Printed in classic kalamkari graphic, attached with one-shoulder bodice, an outfit like this is a perfect fusion,"says designer Kamaali Mehta.
ADD ON:Team it with a chunky Rajasthani silver neck-piece and black bindi for a festive "Goth"feel.
14.JUMPSUIT MADE FESTIVE
A chic jumpsuit with sequinned embroidery is a great investment for busy fashionistas hopping from work to busy functions. Make sure the embroidery on the ensemble is rich enough to enhance a simple jumpsuit. Also, pay special attention to the fit and cut.
ADD ON: A black sequinned box clutch and a statement hand cuff will uplift the look.
15.MODERN MAHARANI
Instead of the regular lehenga and choli, opt for a fun floral appliqued skirt teamed with embroidered silk shirt."The contrast of techniques and urban silhouettes makes this a stunning look," says Satam , For this one, ditch the usual red and yellow and pick rich English shades like pine or antique green and a mix of pastels.
ADD ON: Kohi eyes and simple jadau earring are enough.
16.CANVAS FOR CREATIVITY
A floaty option which is simple and fluid in the midst of a heavy festive wardrobe can be a breather. If you love trinkets, this is your go-to ensemble. It allows you to flaunt some of your most cherished pieces.
ADD ON: Style it with blow-dried hair or mermaid braid.
17.GLOBAL APPEAL
Think pleated train skirt and hand embroidered cape in Bengal dupion woven fabric with cullotes and electric blue woven Banarasi crop top,"A multi-purpose outfit, it can be used brilliantly as separates, When put together, it makes for an ideal Indo-western look," says designer Shruti Sancheti .
ADD ON: Pair with pretty tassel earrings, box clutch and tie up sandals in dull gold.