Aishwarya life after marriage
Aishwarya
Rai Bachchan
has been a former Miss World, India. She is a talented Bollywood actress, a doting bahu, a loving wife and a very caring mother. Aishwarya has performed many challenging roles on-screen but she said that playing all those roles in real life and lead a happy married life requires adjustment and her star status don't restrict her to make those adjustments. Aishwarya Rai Bachchan feels that life has not changed after
marriage.
When quizzed about whether marriage has changed her, Aishwarya quips, "Not at all. I am what I was. See, we are not married for changing ourselves. But of course when two people settle down together there are little adjustments to be made on both sides. Other than that, we make sure to give each other enough breathing space".
Being holding the Bachchan bahu tag brings a lots of responsibility on Aishwarya and when she was asked whether Bachchan bahu or Abhishek's wife title makes her more concern. She replied, "See, when Abhishek proposed to me, we were only lovers. But when you are married you can't expect to remain only a wife. Isn't it? I am happy that Abhishek gave me such a wonderful and caring family."
S
peaking of her loving husband
Abhishek Bachchan
, the actress said, "He iseverything I wanted my man to be and more."
Aishwarya and Abhishek are touted as Bollywood most cherished couple. They were blessed with a baby girl name
Aaradhya Bachchan
in November 2011. Aaradhya is one and half years old and both Ash and Abhi want their child to give a normal childhood.
Aishwarya was last seen in Sanjay Leela Bhansali in 2010 in 'Guzaarish' and since then she is on break for her daughter. She is hopeful to make comeback this year and now she is working on her fitness.
The secret is out on how Abhishek wooed Aishwarya…
Abhishek Bachchan said his wife Aishwarya Rai Bachchan
is the beautiful woman but he had never whistled at her but courted her through his gestures, emotions, and words.
"I am used to people whistling at my wife… see my wife then you will know why I am saying this. I have never whistled at her to woo her… I don't think its the right thing to do. I courted her through my gesture, emotions and words," said Abhishek.
Interjecting, Aishwarya said: "This is why I am married to him."
Abhishek, who has been married to Aishwarya for seven years now, says she is a wonderful cook and she makes good desserts. "She cooks really well… in fact she makes good deserts. When we were newly-married, there is a Bengali custom where the girl has to make some sweet and she prepared halwa which was too good. More than anything else, it is the emotion and with love you cook that matters."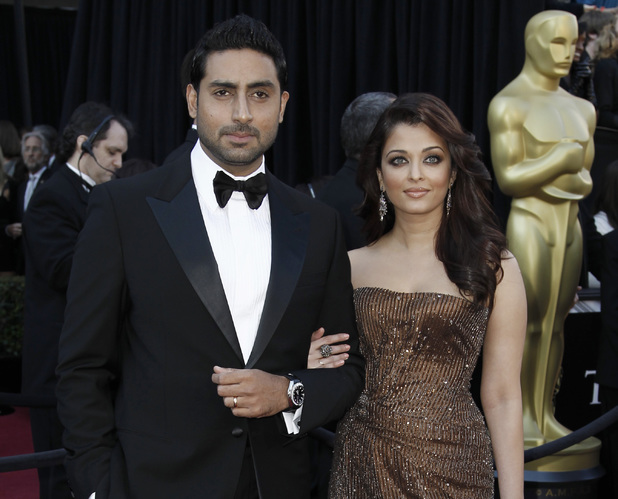 Aaradhya is the biggest gift for me from Abhishek,
Aishwarya
Aishwarya Rai Bachchan
turns 40 today and she shared with her fans the biggest gift that she received from husband and actor Abhishek Bachchan. Asked what Abhishek gifted her, She said, "We will leave it to Abhishek to share it with you. He has given me a gift, but the biggest gift he has given me is Aaradhya. She is my biggest gift,"
Aishwarya felt over the moon when her daughter Aardhaya sang 'Happy Birthday' for her. "Since last evening she (Aaradhya) is wishing me happy birthday mama. Even at midnight she sang birthday song but with her name. It was sweet of her," Aishwarya told journos at her residence.
"She first wished herself and then she wished me," added the actress who is married to actor Abhishekin 2007.
Aishwarya is on break from movies for her daughter Aaradhya.
"Aaradhya means the world to me. She is the best gift of my life. Two years ago when I was expecting baby that time was extremely special," said Aishwarya Rai Bachchan.
Abhishek has arranged a quiet birthday with close friend and relatives today at his bungalow. "With the family, my daughter also sang Happy birthday for me," Aishwarya Rai Bachchan told reporters while addressing the press conference at her residence in Mumbai.

Aishwarya said he visited the temple in the morning. "Main mandir mein ja kar kabhi bhagwaan se kuch maangti nahin.(I
dont ask anything from God)."


Aishwarya Rai Bachchan is considered to be the most beautiful Miss India first runner up ever. She went on to win the Miss World title on the year 1994. Her debut film was "Iruvar" in the Tamil language and it was directed by none other than Mani Ratnam himself.
She was born on 1st November 1973 at Mysore, Karnataka; to Mr. Krishnaraj Rai and Mrs. Vrinda Rai. Aditya Rai is her only brother and he is a marine engineer by profession. Her father moved to Mumbai when she was very young and she did her schooling from Arya Vidya Mandir, Santa Cruz. She studied her HSC from Ruparel College. The childhood dream of the actress was to become a doctor, but she decided to be an architect in the later years. However destiny had other plans for her, and she went on to become the most glamorous face of Bollywood.
The 5 feet and 7 inch tall actress has mesmerized the Hindi film audience with her beautiful bluish green eyes. Her charm not only attracted the audience, but also her co stars. Aishwarya Rai Bachchan had an affair with Salman Khan that lasted for almost two years. She was then romantically involved with the Bollywood actor Vivek Oberoi. But this relation too didn't last for long. The diva finally got married to Abhisek Bachchan, in the year 2007.
The multilingual actress is fluent in Hindi, English, Tamil, Marathi, Kannada and her mother tongue is Tulu. Hum Dil De Chuke Sanam, Josh, Mohabbatein, Devdas and Dhoom2 are few of her big box office hits in Bollywood. The actress is equally popular in South India and has recently ventured out to Hollywood. Pink Panther and Mistress of Spices are her two Hollywood films.