"Ghagra choli", is one of the most graceful traditional Indian attire for women and a great outfit that enhance feminity. This beautiful attire was traditionally worn in some parts of India and is worn even in today's time in some parts of India as a daily wear. Ghagra-choli is also known as lehenga choli or chanya choli. It is traditionally worn in many parts of Rajasthan, Gujarat, Madhya Pradesh, Himachal Pradesh, Uttar Pradesh, Haryana, Uttarakhand and Hyderabad in India. The glorious history of ghagra choli is remarkable and also foretells the story of royals of the Mughal dynasty. The muslim community wear a different version of lehenga choli, that is known as "sharara".From the splendid Mughal empire to parts of India like-Rajasthan, Gujarat, Hyderabad or any other Indian state, ghagra choli has always been a flawless garment and has always been the first choice of any Indian girl to delineate Indian culture and festivity. Ghagra is supposed to be a flared and pleated long skirt that is mingled with a choli and a dupatta.
Choli is a tight fitted garment that covers the upper part of a woman's body leaving the midriff of woman's body bare. It has short sleeves and is also accompanied with a traditional Indian trousseau saree. Though, the choli has different variations and can be styled accordingly.Silks and Brocades are fabrics that are mostly used to design a lehenga choli. Though, many designers try georgettes and chiffons also. The unanimous grace of a lehenga is noteworthy and lehenga is a garment that has been through minimal variations from several years. Though, choli has been through many variations by the designers. Designers have always played with silhouettes of cholis and have offered innovative designs that is a great combination of Indian and Western styles. People in India these days are open to Indo-western fusion and love to wear that is new and different from the regulars. That is the reason Indian designers are playing with fabric, colors and silhouettes to offer the best to the people and cholis tops the list of the designers.If I say that lehengas have been through minimal variations and the cuts of the lehenga have always been the same as it used to be in history, it does not mean that lehengas have not been through variations. As we know that the fashion designers always have something new to assay their customers with, even lehengas have been through little variations. Mermaid lehengas, fishtail lehengas, A-line lehengas, paneled lehengas, circular lehengas, kali ghagras lehengas are few of the styles of lehengas apart fromthe full flaired lehengas, that women have accepted and loved to wear and flaunted their feminine curves.
To wear a traditional dress is a trend that is being followed by the people from several years. Wearing a traditional lehenga-choli has been a hottest trend during festive seasons and wedding occasions. Even an Indian bride wears a lehenga choli for her wedding and loves to look her best on this very special occasion of her life.Bridal lehenga cholis are designed with great concern as it is suppose to be a garment that every bride cherish throughout her life. It has to be gaudy, heavy and very different from the lehenga cholis of the common folks. Every woman wants to look her best on the day of her wedding and a designer lehenga embellished with stones, pearls, swarovski, crystals and zaris are the requirement of the special occasion. Raw silk, crepe, satin, net and georgette fabrics are mostly used to decorate a designer bridal lehengas and that too in various colors both contemporary and traditional. Obviously, the royal look offered to a bridal lehenga gives a feel of a princess to every bride.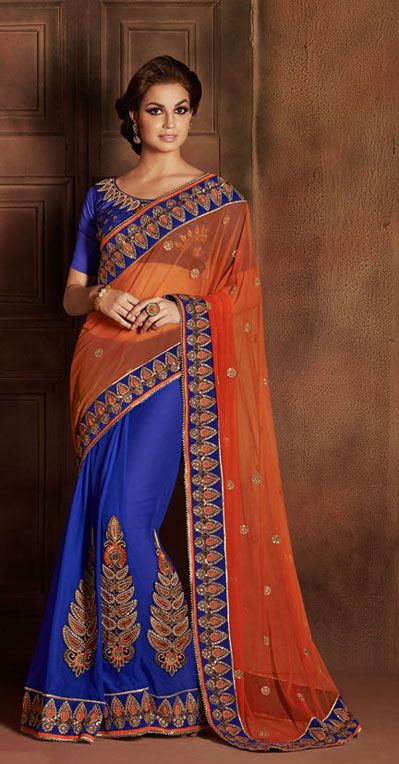 The variations in designs and colors in Bollywood movies are the choice of most of the people who are fashion hungry. The attire is a mark of traditional dignity in India and our movies always contributes and accord the royal look to the attire among the masses.Lehenga cholis have always been in great demand during the festive seasons. Even the online world have vast collection to put up for sale and that too at affordable rates. Navratri season stresses a lot on bandhani or tie and die lehengas and these lehengas look rea
lly vibrant and traditional.
The Indian ghagra choli can be worn on any of the traditional Indian function and truly depicts the essence of feminity.
Difference Between Ghagra and Lehenga
Ghagra and Lehenga are two very similar traditional dresses worn by girls and women folk in many parts of India, especially the northern belt. These are actually lower parts of two different dresses that are known as Ghagra choli and Lehenga choli respectively with only minor differences and lots of similarities. This is why not only westerns but also many Indians are seen confused between a Ghagra and a Lehenga. While the two lowers are used in a routine manner by girls belonging to poor families, these two outfits have become more of party wear dresses with lavish Ghagra and Lehenga being worn on marriage and festivals by ladies. This article attempts to find out differences between the two traditional dresses.
Ghagra
Ghagra is a part of a two piece traditional outfit worn by little girls and older women in many parts of India. Though today worn by women in many parts of India, the lower is more popular in Gujarat, Madhya Pradesh, Uttar Pradesh, Bihar, Madhya Pradesh, Haryana, and Rajasthan. It is a loose skirt made of cotton, silk, or any other cloth that can be simple and printed or it can be lavish and expensive with brocade work. The skirt is usually worn with a matching upper known as choli or a blouse with women taking a stole called dupatta to drape around their shoulders. The skirt is held at place around the waist using a drawstring called nada in India. It is usually worn below the navel.
Lehenga is another lower part in an outfit called Lehenga choli worn by women in many Indian states, mostly northern. The proper name of the outfit is Lehenga choli that is famous as an ethnic India dress all over the world. It is Lehenga that dominates women's attire during marriages, functions, and other festivals. Lehenga is worn by Bollywood celebrities in movies and remains as popular as ever. Lehengas have become all the more popular because of the fact that they are worn by most Indian brides during their marriage ceremonies. Lehengas can be very expensive with all the brocade work and the use of expensive clothes to make them.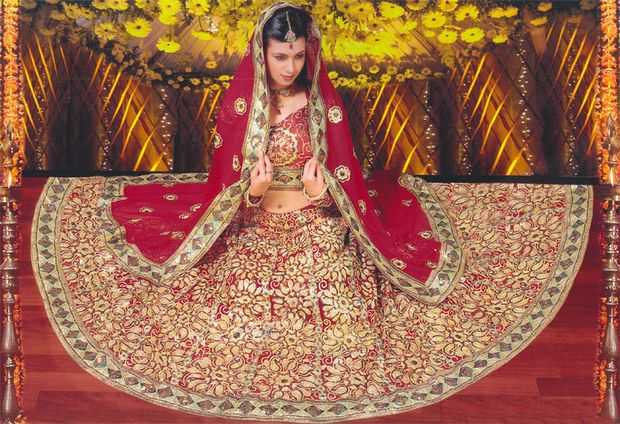 What is the difference between Ghagra and Lehenga?
• While there seems to be no ostensible difference to a westerner, Lehenga is worn on festivals and special events whereas Ghagra is a traditional skirt worn in daily lives by girls and women.
• Bridal Lehenga is perhaps the most popular form of Lehengas. They are most expensive and make use of brocade work.
• Lehengas are more fitting worn at the waist to accentuate the shape or the figure of the woman.
• Ghagra are loose fitting, and they can be simple when made of cotton. However, Ghagra made of crepe and silk can be very bright and expensive with the use of brocade work.
• Ghagra is used by women in Rajasthan and Gujarat more as a comfort wear.
Difference Between Chaniya Choli and Choli Itself
Chaniya choli and choli are versatile outfits that define haute couture in India. Contemporary designs have now evolved to sexy and glamorous cuts in attempt to flaunt the ladies' well-toned bodies and faultless curves. Nonetheless, conventional styles still remain, with embroidered and other hand work patterns receiving comparable notice.
Chaniya cholis are exquisitely colorful attires characterized by a pair of a flowing chaniya or a skirt and a snugly fitted choli or blouse. These custom-designed fashion garments are usually crafted from lightweight materials such as cotton, chiffon, organza, khadi and silk. Varieties that are intended for occasions are made more stunning with the use of brocade, satin cotton and raw silk.
Choli, by tradition, is a midriff-baring blouse made to complement the use of a sari. It enhances the feminine silhouette as it is made with body-hugging materials and finished off with a scooped neck, short-sleeved cut. Contemporary styling paved way to cholis that are of varying shapes and lengths with a few kinds in loose blouse fashion extended beyond the waistline.
Difference between a Chaniya Choli and a Choli
Along with the fame of Bollywood movies is the universal recognition of stylish Indian clothing. Throughout the year, girls across ages can be chic and fab with a Choli and a Chaniya choli without looking too lavish. While a choli needs a sari or a lehnga to complete an outfit, Chaniya choli on the other hand provides a unified appeal with its beauty relying on the artistic collaboration of two separate garment parts. The Chaniya choli is a fashion statement in itself, whereas the choli can be purposely adjusted to set off the cut of the garment to be worn with it.
The origins of the Chaniya choli and the choli must have been rooted from the principles of meticulous styling and
design, reason enough for both to remain fashionable interests not merely for the women of India but as well as ladies from the west.
Of all the ethnic Indian women attires, the most eye-catching one, perhaps, is the lehenga choli. Though traditionally worn by the women folk in the rural belts of Indian states like Gujarat and Rajasthan, the lehenga choli is also popular as bridal attire in the urban parts of India. It is also known by the name of Ghagra Choli. The typical Indian bridal lehenga is of red color and is heavily embroidered with golden thread or zari. It is teemed with a short or waist length blouse, known as the choli, and a dupatta.
Though one can get many readymade ethnic lehengas in the market, many brides-to-be prefer to get them stitched. Ask any Indian, preferably a women and she will tattle off a number of names of famous tailors who specialize in making bridal ghagra choli. Nowadays, many variations have seeped into the lehenga designs. The bridal lehenga is not limited to red color. People are also opting for multi-colored or pastel-shade lehengas now. Similarly, the skirt can be double layered and stylishly embellished with zari and precious stones.