One of the best attires a man can adorn on his wedding day

is the traditional

sherwani. Most of the grooms prefer to wear the chic and elegant embroidered

sherwani that is known to be the

traditional

wedding wear

in India.
A Perfect Wedding Wear

The sherwani is a long coat that reaches below the knees and it is worn with a churidar, dhoti or kurta. Nowadays, it is worn over a churidar rather than a kurta. The long coat is buttoned up till the top. This graceful wear helps to accentuate the look of a man. There are different types of

sherwani designs

available today. The hand

embroidered

designer wears are in great demand these days. You can also shop online for beautiful ethnic sherwanis of different varieties

.
This
traditional
attire is now available in various fabrics and designs. You can also find heavily embellished ones with Kashmiri embroidery that is just the perfect
wedding wear
. The other sherwani designs include floral designs, sequin works, precious stone and zardosi work on collars and cuffs.
The need to move with the changing trends and fashion has led to latest sherwani designs which are becoming quite trendy these days. Today you can easily find a wide range of designer wears so it is not easy to select one among them. You can choose one with light embroidery and prints if it is a small occasion but if it is a wedding, it is best to choose heavily
embroidered
sherwani with kundan and mirror work. It will enhance your personality and bestow an elegant look on the wearer.
This ethnic wear is made of various materials like silk, crepes, brocades, tussar and cotton. You can choose the material according to your comfort and preference. The most preferred colors in this
traditional
wear include maroon, gold and red. Though now most of the people
prefer to experiment
with the different colors like off-white, blue, green and so forth.
I

ndian wedding ceremonies are traditional, colorful, exciting and glittery affairs. The engagement ceremony, sangeet, mehendi, and many other events make a best setting to enjoy, and bring in a perfect dose of fun, music, and happiness. A colorful range of Designer, and Designer Sarees for the bride and a Western Look Sherwani for the groom can make the wedding ceremony a memorable event. Bridal accessories like jewelry adorn the bride and make look awesome on the special day. Jewellery combined with wedding accessories play an important role for a bride; however it is not the same for the groom. Without much of accessories, a groom has to look perfect in Western Look Sherwani or wedding sherwani. For the wedding event, a groom can choose a Sherwani Collection enriched in colors like, beige, off white, maroon and ivory.
The engagement ceremony is celebrated in all over India, and is a very essential pre-marriage event. The engagement ceremony or sagai is celebrated in numerous ways which is people attended by the family of bride and groom. A bride is distinctive about her lehenga, and is excited about the outfit which she's going to wear. The real fun begins with the shopping for dresses or outfits. Starting from the wedding lehenga, sherwani, jewelry sets, the bride and groom need different set of attires, and accessories for the and engagement.
Therefore, while making preparations for occasion, prepare a list of what you want and need to buy for wedding and engagement, categorize them into separate categories such as attires, jewelry, apparel, accessories, the event attires, and engagement outfits. Today, not only the bride, but even the groom is scrupulous about fashion statement. Groom also shops broadly for wedding or engagement, matching the color pattern of sherwani, shoes and shera and gives great competition to bride.
A lot of grooms also experiment with Designer Lehengas for an appealing look. But, one thing for the groom to keep in consideration is that the wedding sherwani ought not to be too loud in color pattern and embellishments, and a similar thing applies for the attire of bride. Sherwani provides the fashion designers enormous scope for embroidery and decoration. Also, all types of modern and traditional accessories look best on the Western Look Sherwani.
Fashion designers try many embellishments to boost the appeal of sherwani. It can be created in various types of fabrics such as poly-silk, silk, and other silks. Most of the sherwanis and the lehenga are studded with kundans, perals, crystals, sequins, and various stones which add to their appearance and value. Buy Western Look Sherwani and Designer Lehenga online and save your money and precious time.
Today, Brides and grooms love to wear different styles in clothes. Apart from the Indo-Western Sherwani, Bridal Party Wear Sarees have also in high demand and people love to wear it during special occasions. So for bride who is the main attraction at special day, Western Look Sherwani can be a perfect way of grabbing attention.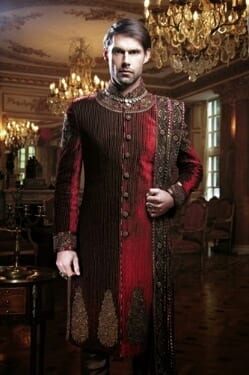 Be The Center Of Attraction In Wedding With Regal Groom Sword

The appearance, looks, dress and the disposition of the groom make a lot of difference to his personality on the day of his wedding. He should be looking great to thrill the heart of his bride and also to all her family members, relatives and guests. If the groom comes to the wedding venue in a regal way by carrying sword by the side of his hips and by riding a white horse, his style gets appreciated by all.

It is often seen in the Sikh and Rajput community of North West Rajasthan as well as in Punjab and in some other states of India that the groom is coming to the wedding venue with a sword. Carrying the sword is a part of the custom of royal marriage in these Indian communities. Sword is the very representation of a warrior and it is considered to be a valuable asset during the wars prevalent in the ancient history of India.

Besides the Sikh and Rajput communities, many celebrity grooms in India are also found to carry swords while going to get married in royal style. So you can also get dressed in an imperial manner and can enter the wedding hall in a grand style by riding a white horse and carrying sword just that stands for status, pride and prestige.

Get dressed in this groom wedding accessory and flaunt your majestic style in front of your invited guests in a distinct way. However your wedding theme should be at par with carrying of sword in your wedding. If you are having a Rajasthani royal theme, then entering the wedding hall with a sword will perfectly match with your marriage theme. On the other hand, if you are having a metropolitan wedding theme, then carrying the sword doesn't go well with that kind of urban theme.

You can always consult with one of the best wedding planning service providers in India and can get the idea about the right kind of wedding accessories. The wedding planners boast of top accessory designers in India who have worked with numerous Indian grooms and as a result they can give you the right idea about what kind of accessorywill suit best with your groom apparel and wedding theme.










WHAT DO YOU KNOW ABOUT SHERWANIS?
There have been and are many men who don't wear the classic suit, believe it or knot. The Sherwani is a long, coat-like piece of clothing worn particularly in South Asia in countries like India and Pakistan.
In the past it was associated with the Muslim aristocracy of the Northern Indian subcontinent. The sherwani appeared in India during the British period, and was worn by the aristocracy, but now it's considered Pakistan's the national dress for men.
The sherwani has a nintricate embroidery with beads and gems. Today, sherwanis are worn at formal events or weddings, pretty much like a tuxedo in the Western world. The older, more traditional sherwanis were black, brown and generally darker colors, but today they come in all the beautiful colors of the world. The fabrics that are usually used for these pieces are raw silk, pure silk and brocade.
Nowadays, they have been popularized in the Western world through Indian films and television series and many Westerners have grown to like them. In the West, many men feel as if the sherwani looks something like a dress and would not wear it. However, because of the cut that emphasizes men's v-shape chest it really looks manly and strong. It is not recommended to wear ethnic clothes in general with jeans or other modern clothes. If you are to do it, do it all the way! Sherwanis are best worn with Mojaries, which are a type of traditional shoes but that's another discussion.
The price of a sherwani can vary, but it can go from less than $200 to several thousand, depending on the fabrics and the designer.
The sherwani is similar to the Indian kutra, which is a long top and pants worn by men. It is found in more muted colors like whites, ivory, beige and tan with light embroidery around the collar, cuffs, and button down. It's a great casual piece.
You can find a lot of inspiration in these sherwanis and expand your horizons. Why we like them is because even though it's a simple, strict piece, designers can go miles with is: you can modify it in so many ways! In the album coming up, you can see some of our favorite sherwanis. Besides of the fact that they can be really original, we like sherwanis because we believe that if you would match them with European clothes, even though they are not popular in Europe, you could have something new. We're working on that. Have a look and make up your own opinion!